SZMCH testing reveal animal bacteria in affected peoples' samples, RYK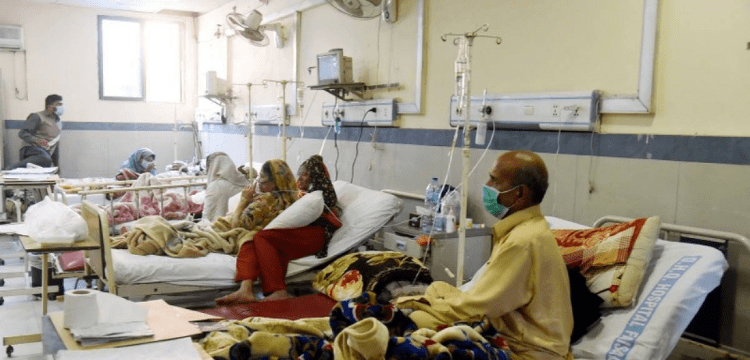 RAHIM YAR KHAN: During the examinations of various specimens and samples taken for pathological tests, different animal bacteria were discovered in the patients affected by an unidentified disease, District Health Officer (DHO) Dr. Liaqat Ali Chohan informed the Primary and Secondary Health Care (P&SHC) department secretary during the latter's visit to Basti Behram Leghari on Monday.
P&SHC Secretary Muhammad Iqbal visited the hamlet on the orders of Punjab Chief Minister Chaudhry Parvez Elahi and the provincial health minister Dr. Akhtar Malik. He spoke with the relatives of the afflicted families, condoled for their loss of loved ones, and extended his sympathy.
Dr. Hassan Khan, CEO of the District Health Authority (DHA), gave the secretary a briefing regarding the medical camp and other services offered to locals during the visit. Dr. Chohan claims that two of the 25 locals with sickness symptoms whose samples of nasal and throat swabs were analysed at the Sheikh Zayed Medical College and Hospital (SZMCH) laboratory were discovered to have various animal-related pathogens.
Ersipelothrix Rhusiopathiae was discovered in one of them, Khadija, and beeran 20 Streptococcus Alactolyticus was discovered in Naz's sample. Streptococcus pneumonia in Khadeeja (2), a different patient, was discovered.
Following the health department's SOPs, DHQ sent samples and specimens of animals, water, and food products of the affected persons to the National Institute of Health (NIH), Islamabad, and other departments concerned (SOPs). The analytical tests, according to Mr. Iqbal, include no indication that the deceased were poisoned, and he urged people to stop spreading such rumours. He declared that the government will receive his recommendations for providing the affected families with financial relief.