Shahbaz Gill of PTI was carried to court in an ambulance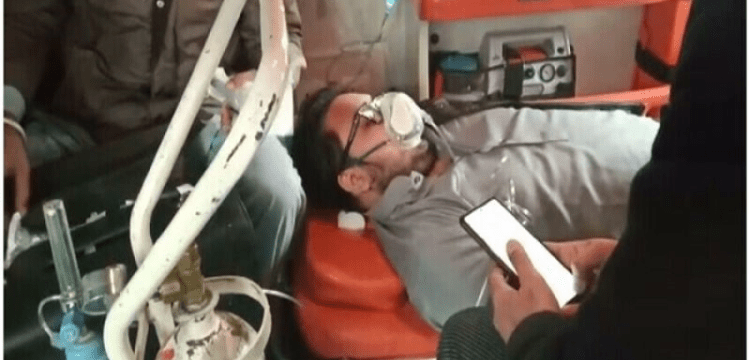 The indictment of a prominent member of the former ruling party has been postponed until January 20.
Shahbaz Gill, the leader of the Pakistan Tehreek-e-Insaf (PTI), was transported to court in an ambulance on Friday, and the district and sessions court in the federal capital postponed the indictment of him in a sedition case for encouraging revolt in state institutions.
The court issued a bailable arrest order for Ammad Yousaf, a private channel news director who was also booked in the case, and deferred the indictment of Gill until January 20.
Prosecutor Rizwan Abbasi, Gill's attorney Burhan Muazzam, and Yousaf's attorney all appeared before Additional District and Sessions Judge Tahir Abbas Supra at the hearing today
Yousaf's counsel said that he has contracted malaria and thus could not appear in court. His lawyer submitted a request seeking an exemption from appearing in court in person along with his medical report.
The judge remarked, "It seems as if you have taken turns," referring to Gill's arrival from Lahore in an ambulance and Yousaf's failure to show up to court.
Meanwhile, the PTI leader's lawyer said that Gill was present in an ambulance outside the court, adding that he could not move because of the oxygen mask.
Subsequently, the court issued a bailable arrest warrant for Yousaf against a surety bond worth Rs50,000 and postponed the process of indicting Gill, and adjourned the hearing till January 20.
Shahbaz Gill was charged last month with inciting dissent in state-run institutions, and the court denied his request for a personal attendance exemption. As a result, a warrant for his arrest with the possibility of bail was issued.
Gill's absence from court and his request for a waiver of personal appearance angered the judge, who added that it seemed the defendant did not want the case to move forward.
Gill looked not to be a serious offender, according to Special Prosecutor Rizwan Abbasi, who asked the court to issue a non-bailable arrest warrant for him. The judge was told by Gill's attorney, Shehryar Tariq, that his client's health issues were discovered during a checkup when he was under physical remand.
When Gill's health improved, he would show up in court for the subsequent hearing, according to Tariq, who claimed that Gill had asthma. The attorney asked the court to grant his request for an exemption from attendance until that time.
The court denied Gill's appeal for exemption and issued a warrant for his arrest that is subject to a deposit of Rs200,000.