Sanaullah requests that the SC and NA speaker pay attention to a recent audio leak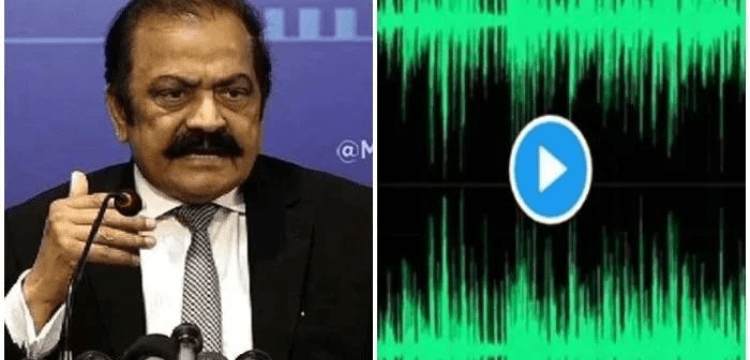 On Tuesday, Interior Minister Rana Sanaullah urged the Chief Justice of Pakistan (CJP) and Speaker of the National Assembly Raja Pervaiz Ashraf to "take notice" of a recent audio leak that allegedly included PML-Q MNAs Hussain Elahi and Chaudhry Wajahat Hussain and in which the two were heard discussing kidnapping a lawmaker.
On Monday night, a little more than a minute of audio began going viral on social media. Hussain and Wajahat are seen in the video apparently planning a potential "vote of confidence" in the NA.
In order to prevent "turncoats" from assisting Prime Minister Shehbaz Sharif in winning a vote of confidence that the party intended to use to "test" the premier, the PTI has hinted at returning to the legislature.
How to kidnap an 80 years old female MNA in 10 minutes: Hussain Elahi and Wajahat Hussain discuss #audioleak pic.twitter.com/C885yKP301

— Murtaza Ali Shah (@MurtazaViews) January 16, 2023
The interior minister condemned the planning of a woman's kidnapping in response to today's revelation. Imran Khan, the chairman of the PTI, and his desire to "purchase the conscience" of MPs from the PML-Q and PML-N, he claimed, had been "exposed before the public."
Which court will provide Chaudhry Shujaat Hussain, the party's leader, and MNA Farah Khan [sic] with justice? Sanaullah tweeted, "CJ should take note of the audio and this trade of conscience. The NA speaker should do the same.
ڈسکہ میں الیکشن عملے اور ووٹوں کے تھیلے "اغوا" کرنے والے اب ارکان NA کے اغوا کے منصوبے بناتے پکڑے گئے ہیں، IMF پروگرام ناکام بنانے کی سازش بناتے ہیں تو کبھی سائیفر پر جعلسازی کرتے پکڑے جاتے ہیں، طیبہ گل کے اغوا کار۔۔۔ 3)

— Rana SanaUllah Khan (@RanaSanaullahPK) January 17, 2023