PM to co-host a conference on Pakistan's climate resilience in Geneva today.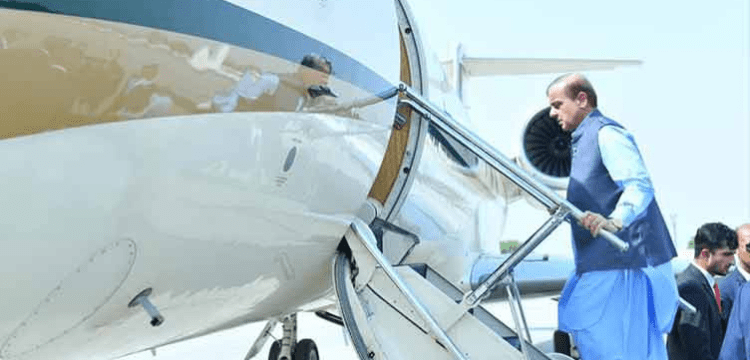 GENEVA/ISLAMABAD: On Sunday, Prime Minister Muhammad Shehbaz Sharif and a high-level delegation landed here for a conference on a "Climate Resilient Pakistan" that would be co-chaired by UN Secretary General Antonio Guterres on January 9.
According to a press statement from the PM Office Media Wing, the prime minister was accompanied by the foreign minister Bilawal Bhutto Zardari, the minister of finance Ishaq Dar, the minister of climate change Sherry Rehman, and the minister of information and broadcasting Marryium Aurangzeb.
Pakistan will present its framework vision for rehabilitation and reconstruction during the conference, putting special emphasis on the need for international assistance and enduring partnerships to carry it out.
The official document regarding the repair and rehabilitation of the flood-affected areas would be revealed during the first high-level opening segment, along with partner support announcements. A joint press stakeout will be held by the UN secretary general and the prime minister. A post-disaster framework is presented by Pakistan at an international conference.
At the International Conference on Resilient Pakistan in Geneva on January 9, Pakistan will present a thorough post-disaster framework plan for recovery, rehabilitation, and reconstruction to development partners and friendly nations. Along with UN Secretary-General Antonio Guterres, the summit will be co-hosted by the Prime Minister Shehbaz Sharif.
"Bridging the financing gap is crucial to repair critical infrastructure, reconstruct lives and livelihoods, and restart the economy," the prime minister declared before departing for Geneva.
Millions of Pakistanis, he claimed, were looking for kindness and unity to help them recover from the terrible damage brought on by the floods. The history of the globe is turning for humanity. The prime minister said on his Twitter account that the resilient future for our future generations will be shaped by the choices we make today.