PM Shehbaz lays foundation stone of Sukkur-Hyderabad motorway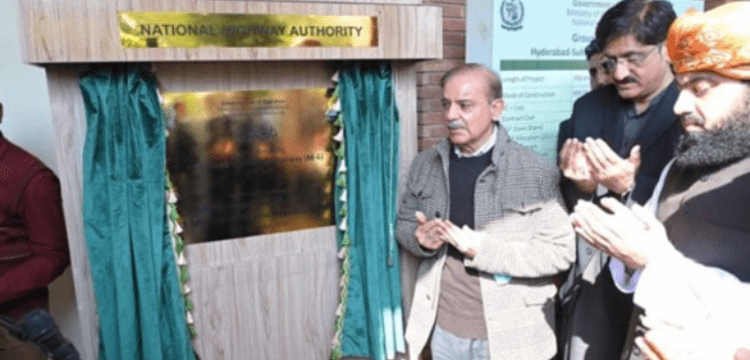 SUKKUR: During a ceremony in Sukkur on Tuesday, Prime Minister Shehbaz Sharif lay the M-6 motorway's foundation stone. Speaking at the event, the premier emphasised the importance of building road infrastructure to connect all of the provinces of the nation, especially the economically disadvantaged ones.
In addition to generating new commercial prospects, he stated that connecting the underdeveloped regions, like as Balochistan and Sindh, would open the way for economic and social growth. In his remarks at the ceremony, the prime minister noted that the coalition government was pleased that the M-6 motorway building project had resumed after a protracted delay caused by the previous administration's incompetence.
He also gave the necessary authorities the go-ahead to finish the public-private initiative before the deadline. The prime minister urged Planning Minister Ahsan Iqbal to forward additional public-private initiatives in order to advance the objectives of prosperity and development.
In order to connect Balochistan to upcountry areas and integrate the province into the national economy, the premier further urged for improved road connectivity. On this occasion, Shehbaz also made the completion of the Sukkur Rohri bridge announcement that had previously been made by former prime minister Nawaz Sharif.
The chief minister of Sindh, Syed Murad Ali Shah, expressed regret that the previous administration's indifference caused a three-year delay in the construction of M-6 and emphasised the need to provide locals with 25,000 project-related jobs.
The six-lane highway will have fifteen interchanges, a sizable Indus River bridge, 82 canal bridges, 19 underpass bridges, six flyovers, and ten service areas. About 25,000 employment will be generated by the project.
The districts of Jamshoro, Hyderabad, Matiari, Benazirabad, Nowshero Feroze, Khairpur, and Sukkur will be traversed by the M-6. On both sides of the route, service stations and rest spaces will be placed every 50 kilometres.