Pakistan to pay for Russian energy purchases : Russian official announces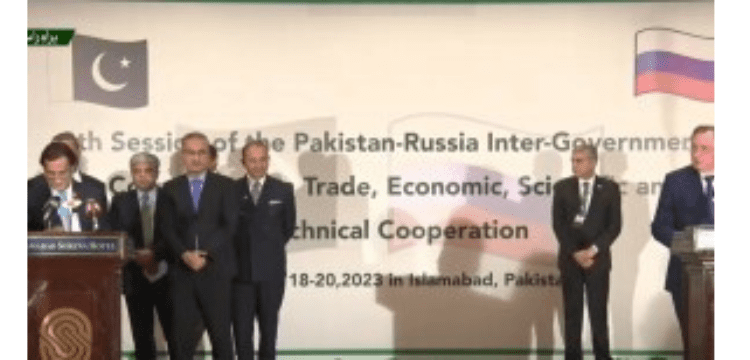 The statement was made during the eighth session of the Pakistan-Russia Intergovernmental Commission, which was held today in Islamabad and was co-chaired by Pakistan's Economic Affairs Minister Sardar Ayaz Sadiq and Russia's Energy Minister Nikolay Shulginov.
Shulginov also stated that the two countries have agreed to ship crude oil to Pakistan in late March. A Russian delegation led by Shulginov is currently in Islamabad to discuss ways to improve bilateral economic and trade relations, with a particular emphasis on the provision of discounted oil and gas to Pakistan, as announced by Minister of State for Petroleum Musadik Malik last month.
Both countries agreed today in a joint statement that the "oil and gas trade transaction will be structured in such a way that it has [a] mutual economic benefit for both countries," adding that the process would be completed by March 2023.
The countries signed a customs agreement, a protocol on the exchange of documents and data on the customs value of goods transported between the countries, and an aeronautical working agreement.
According to the statement, "both sides have agreed to work on a 'Comprehensive Plan for Energy Cooperation,' which will serve as the foundation for future work and is expected to be completed in 2023."
Regarding the Pakistan Stream Gas Pipeline Project (PSGPP), both sides agreed to consider it in terms of a "comprehensive infrastructure, which is economically viable for sustainable gas infrastructure development ensuring affordable gas supplies".
According to the joint statement, both countries discussed "innovative ways of doing business, including through barter," and agreed to investigate the possibility further.
They also agreed to share information in order to develop and improve rail and road infrastructure, as well as to appoint focal points from both sides to discuss connectivity and logistics issues in Central and South Asia.