Pakistan hopes to promote public-private collaborations with Google FM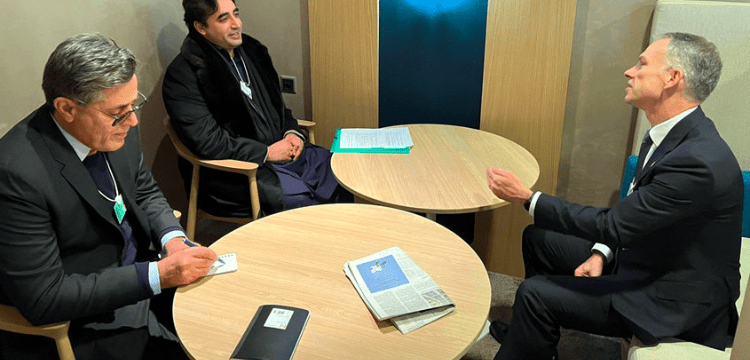 According to Pakistan's Foreign Minister Bilawal Bhutto Zardari, the country is eager to develop public-private collaborations with Google. The foreign minister shared his opinions with Scott Beaumont, the president of Google for Asia-Pacific, during a conversation they had in Davos before to the World Economic Forum's (WEF) 53rd annual conference.
The two talked about how Pakistan's digital economy, workforce, and technical assistance for weather forecasting may be increased. Bilawal tweeted that he was "glad to meet Scott Beaumont" and included pictures from their encounter.
On the sidelines of the WEF conference, the foreign minister also met the Foreign Minister of Slovenia, Tanja Fajon, and thanked her for Slovenia's "support and solidarity" post the floods in Pakistan last year. The two also "discussed ways to further augment bilateral relations and exchanged views on contemporary regional and global issues of mutual interest".
Furthermore, Bilawal had a "excellent dialogue on global issues of mutual interest" with South African Foreign Minister Dr. Naledi Pandor. For South Africa's "help and solidarity post floods," he thanked Dr. Pandor. The two nations "have longstanding solid relations at all levels," according to FM Bilawal in a tweet, and have decided to further strengthen their ties, particularly through trade and investment.
On the sidelines of the WEF conference, the foreign minister also spoke with Olena Zelensky, the first lady of Ukraine. He offered his sorrow to the families of the victims of the "tragic helicopter tragedy that resulted in the loss of life" and sent his condolences to them.
FM Bilawal is representing Pakistan at the WEF annual meeting in Davos, Switzerland, along with Minister of State for Foreign Affairs Hina Rabbani Khar. Political and corporate executives, chiefs of international organisations, and prominent members of the media and civil society are among the dignitaries present at the summit.