On Solidarity Day, Pakistan declares its unwavering support for Kashmiris' "relentless fight."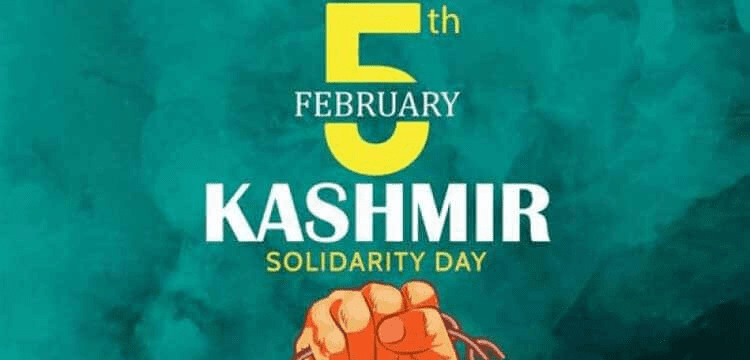 On Sunday, Pakistan will observe Kashmir Solidarity Day to show that the country fully supports the Kashmiri people in their ongoing struggle to exercise their unalienable right to self-determination in accordance with UN resolutions.
"Today the whole of Pakistan comes together to express its unwavering solidarity and support to Kashmiri brothers and sisters, who remain undeterred by the oppressive Indian occupation apparatus in the struggle for UN-sanctioned right to self-determination," said Prime Minister Shehbaz Sharif in a message on the occasion.
People of IIOJK are waging a relentless struggle of epic proportions to realise their dream of freedom from the Indian yoke. Through their sacrifices, they have kept the torch of freedom burning. It is my faith that their dreams will soon see the light of day. https://t.co/KIiIR1CES6

— Shehbaz Sharif (@CMShehbaz) February 5, 2023
The Kashmiri people, he continued, were engaged in an unrelenting struggle of "epic proportions" to realise their aspiration of liberation from the "Indian yoke." "They have maintained the flame of freedom through their sacrifices. I have faith that their dreams will soon come true," the prime minister continued.
Foreign Minister Bilawal Bhutto-Zardari emphasised that India must stop its flagrant abuses of human rights in Indian Illegally Occupied Jammu and Kashmir (IIOJK) and undo its unilateral and unlawful activities from 5 August 2019.
The Pakistani people honour the sacrifices made by their Kashmiri brothers and sisters who have endured more than 75 years of ruthless Indian persecution as we commemorate Kashmir Solidarity Day, he said in a statement.
Message by Foreign Minister Bilawal Bhutto Zardari @BBhuttoZardari on the Occasion of Kashmir Solidarity Day, 5 February 2023 (English version)#kashmirSolidartyDay pic.twitter.com/FF0NgHylVU

— Spokesperson 🇵🇰 MoFA (@ForeignOfficePk) February 4, 2023
The minister reminded that Kashmiris have been brutalised and denied their rights by Indian Occupation Forces for more than seven decades. With nearly 900,000 occupation personnel present, Indian Illegally Occupied Jammu & Kashmir (IIOJK) is currently one of the most militarised regions in the world.
He proceeded by saying that with its illegal and unilateral acts on August 5, 2019, India had started a new chapter in its repression of the IIOJK people. He said that Pakistan would never remain silent while Kashmiris continued to endure Indian crimes. "I want to remind our Kashmiri brothers and sisters that Pakistan will never sit back and watch silently," he said.