Maryam Nawaz vows to remove politics of Imran Khan.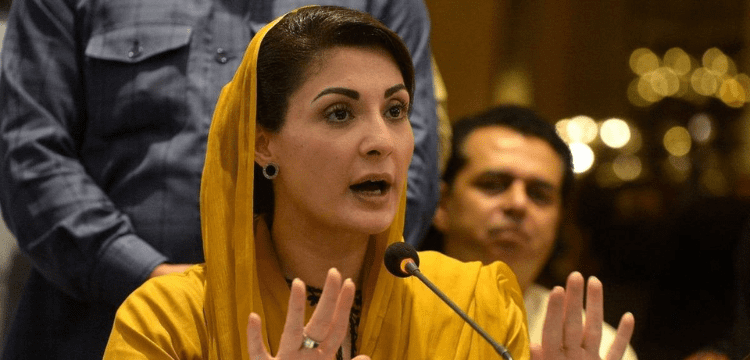 LAHORE: According to PML-N Senior Vice President Maryam Nawaz, the biggest threat Pakistan currently confronts is political instability. She blamed PTI leader Imran Khan and his party for the problem and vowed to purge politics of them.
Apparently intended to criticise Imran and his party, Maryam made these remarks while speaking at a youth convention at the PML-N Secretariat.
The PML-N SVP stated that Imran should publicly admit to the people that he had lied about the conspiracy theory after he admitted that America was not overthrowing his government.
His catchphrases "Hum Ghulam Hai Kya" (are we servants) and "imported hakumat" (government) were all based on lies, according to her.
"Upon realising that the vote of no confidence will topple his government, he concocted allegations of American-sponsored regime change. Imran waived a cipher and announced that he gave it to the Supreme Court."
"I had said it then that this cypher was nothing but deception," the woman remarked. Maryam still didn't appear to understand what the diplomatic code genuinely meant.
She claimed that the PTI even charged national leaders to being traitors using the alleged American scheme.
She claimed that Imran abandoned his story and placed the full blame on former army head Gen (retd) Qamar Javed Bajwa when he realised the damaging potential of the anti-American narrative. When Imran was in charge, he showered adulation on someone named Bajwa. He also offered Bajwa a lifetime extension after realising his administration was in danger.
She said that Imran, even today, was using the president as an intermediary to patch things up (with powers that be).
She said Imran accused Gen Bajwa of being the super king after the establishment withdrew its support for him.
Mockingly, she said Bajwa was all in power, but yet women of "your house" were plundering millions of rupees.
Referring to the then DG ISI and now COAS Gen Asim Munir, she said that when a person pointed out "financial wrongdoings of your wife, you removed him".
She said that a concerted campaign was run against the PML-N and other parties to call them thieves, dacoits, and corrupt just for getting Imran declared honest and righteous by former CJP Saqib Nisar.
Today, she said, those who had been declared dishonest were being proven honest and Imran who was declared honest had every allegation of wrongdoing proven against him.
She claimed that Pakistan needed a performance rather than a story. Asserting that the PML-N had to do the same to combat them, Maryam said that campaigns were launched against leaders to divert them from the important issues at hand.
She cited India's adoption of the Silicon Valley model as an illustration of how Pakistan needed to join the IT revolution in order to revive the struggling economy of the nation.