LCCI for women's participation in economic activities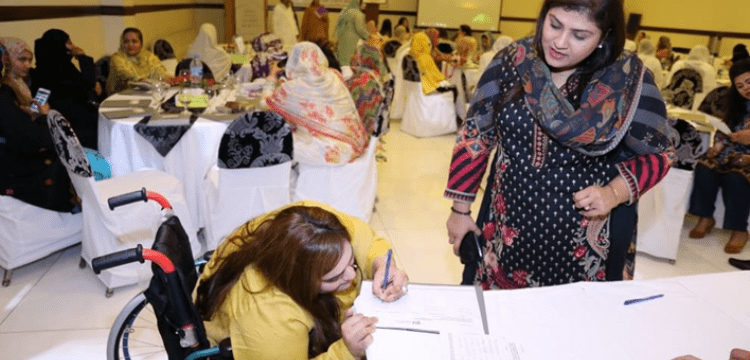 LAHORE : Without due participation of women in the economic activities, the progress and prosperity will remain a dream.
Women make up more than half of Pakistan's population, and their contribution to the country's growth is crucial. To achieve gender parity in the country, women's role should be expanded; supportive environment should be created; starting a business should be made simple; and availability of loans should be made easy for them.
These were the issues highlighted during an awareness session on "Facilitation provided to the Business Community by Government Departments" held here at Lahore Chamber of Commerce and Industry (LCCI) on Wednesday.
Chairing the session, LCCI President Kashif Anwar said that due to measures taken to minimize imports, the industry was facing shortage of raw materials, machinery and other inputs which was affecting all the sectors. He said that the policy rate should be reduced for the SMEs (Small and Medium Enterprises) and the profit rates of commercial banks and Islamic banks should be brought at par.
Higher Education Commission Punjab's Chairman Prof. Dr. Shahid Muneer said that the enrolment of females in the universities was increasing many folds, the day was near when women would out pass men in educational institutions. Out of 200 Pakistan top universities, 42 were being headed by women compare to India where no woman was the vice chancellor of any university.
Regional Business Head, First Women Bank Mubeena Tariq said that the bank was working for the women of rural areas to impart training and skills. Trade Development Authority of Pakistan (TDAP) Deputy Director Mariam Alvi said that TDAP was working to extend more services for the SMEs and entrepreneurs belonging to non-traditional sectors to participate in the international exhibitions.
Small and Media Enterprises Development Authority (SMEDA) Deputy General Manager Tania Butter mentioned that the authority was encouraging SMEs for exports. He said,
"Our SMEs have to import a lot of raw materials, essential components and various machinery which were not available in the country, on which, they have to pay regulatory duties, customs duties and additional customs duties."
The LCCI President said that Lahore Chamber wanted to collaborate with all the government departments, claiming that it had always worked to promote industry-academia linkage. He said that Akhuwat Foundation should make it easier for young entrepreneurs to get loans.
Secretary Punjab Commission on Status of Women Nada Azher,  Senior Officer State Bank of Pakistan Fareeha Tehreem, Managing Director Punjab Small Industries Corporation Asif Ali Farrukh,  Deputy Director Social Welfare and Baitul Mal Saba Nazir, Deputy Secretary Women Development Department Hafiz Ubaidullah Zikaria, VC Lahore College for Women University Prof. Dr. Bushra Mirza, VC University of Home Economics Prof. Kanwal Amin, Mudassar Habib from Akhuwat Foundation and Convener LCCI Standing Committee on Women Empowerment and Personal Development Fareeha Younas also spoke on the occasion.