Islamabad police and FC staff clash over a lodging issue.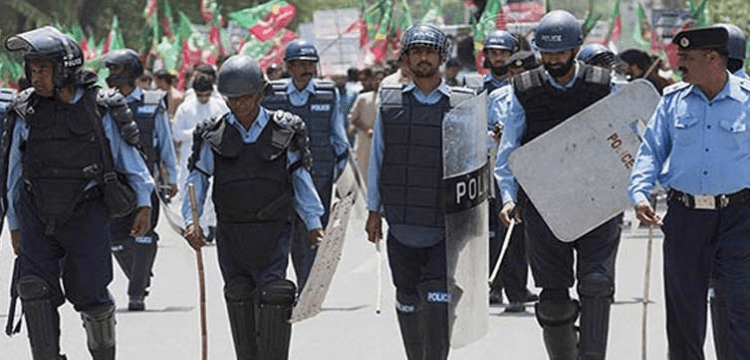 ISLAMABAD: A fight broke out at a police station between representatives of the capital police and the Frontier Constabulary (FC) over a matter involving accommodations.
Police claim that the altercation occurred on the Secretariat's property, which is in the Red Zone, where the officials, some of whom were armed, beat one another over a lodging issue. They said, "The event occurred as a result of bad management by senior officers who brought the two units together, which resulted in a violent conflict."
The officers claimed that previously, lodging for FC's platoons of 1,000 officials was provided at Secretariat Chowk in an open space next to a mosque. They added that because of the situation and terrorism in the I-10 sector of the capital and Peshawar, this was no longer possible.
The Secretariat police station's barracks were chosen for FC's platoons despite the fact that it was already congested with police officers living there, according to the officials, who also stated that FC platoons were urged to relocate to the police station.
The FC personnel arrived at the barracks and requested that the police officials present leave, according to the officers. They added that the cops refused to leave the barracks since they had not received a directive or notice to do so.
After a disagreement, police officials wanted some time to pack their belongings and make plans to go elsewhere, but FC staff lost their cool and began dumping their stuff outdoors, which irritated them. They then allegedly traded insults before it quickly escalated into a fist brawl, according to the cops.
The officers claimed that although members of the police station staff rushed towards them and attempted to separate them, some of the individuals on both sides threatened their adversaries by brandishing weapons. Senior officers were also made aware of the situation and instructed to report to the police station immediately.
A superintendent of police (SP) responded by showing up at the police station and disarming the staff. Later, the police officers were told to leave the barracks. The SP was successful in mending relations between the parties. When contacted, a capital police public relations officer (PRO) stated that the problem had been