Imran receives legal warning from PPP on Zardari's "fabricated, disgraceful" murder accusation.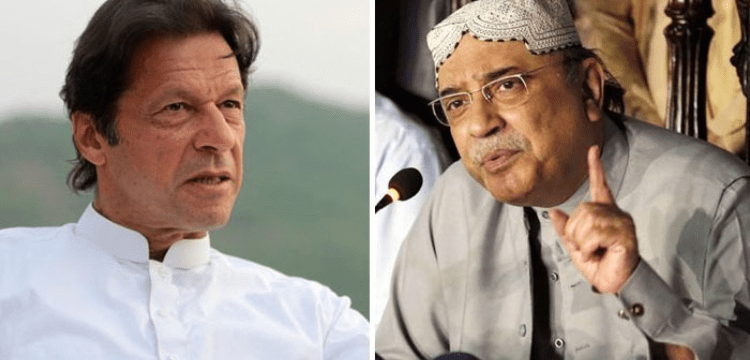 The PPP slapped a court notice on PTI Chairman Imran Khan on Monday and demanded a "unconditional apology" for his "fabricated and scandalous remarks" accusing Asif Ali Zardari, the co-chairman of the PPP, of plotting his assassination.
Imran Khan, a former prime minister who was shot near Wazirabad last year and is currently recuperating at his Lahore home, claimed last week that Zardari was involved in a plot to "get rid of him."
He claimed that following "two" failed attempts on his life, the four individuals, together with the PPP leader, who he has previously claimed to have created a conspiracy to kill him, have now prepared "Plan C" to kill him.
A copy of the legal notice is available at Dawn.com. It made reference to Imran's video address to party officials from January 27 in which he allegedly stated: "Asif Zardari has paid his corruption money to a terrorist organisation being supported by facilitators of a powerful state agency to launch another attack on me." It stated that "you have tried to smear our client domestically and globally with unsubstantiated claims of a malicious and defamatory character."
Furthermore, it continued, "Blindly ignoring the fact that our client and his party have continued to be the victims of terrorism, you have tried to establish a connection between our client and terrorist organisations through your defamatory, libellous, scandalous remarks and allegations of serious nature."
The complaint's wife, former prime minister Benazir Bhutto, was allegedly also murdered by terrorists, according to the notice, which was delivered through the PPP's legal representative Farooq H. Naek.
The notice continues, "Furthermore, in your statements you have stated that our client is hatching a new plan to allegedly assassinate you through corruption money, despite the fact that our client has languished in prison for almost eight years in false, fabricated, trumped up and concocted cases, including corruption cases, and not one of which was proved against him and he was acquitted in all those cases honourably.
Within 14 days of receiving the notification, Imran was instructed to "deliver an unconditional apology on television, print, and social media." The PPP informed Imran that if he didn't comply, legal action would be taken.