Government strengthens countermeasures to Covid pressure to maintain airport screening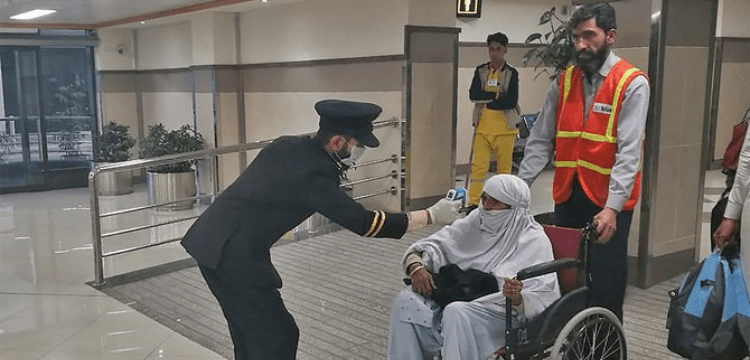 NIH will put out recommendations for educational institutions and public gatherings.
ISLAMABAD: To reduce the risk of the BF7 Omicron coronavirus strain spreading throughout the nation, the National Disaster Management Authority (NDMA) decided on Monday to keep screening travellers arriving from overseas at airports and crossings.
Lt. Gen. Inam Haider Malik, the chairman of the NDMA, gave the National Institute of Health (NIH) the order to release the required regulations for educational institutions, social gatherings, and communities while presiding over a review meeting on the viral situation.
Review meetings on the current Covid-19 situation and airport surveillance systems were held with teams from the National Institutes of Health (NIH) and the Civil Aviation Authority (CAA), in response to the threat posed by the new BF7 Omicron strain. The NIH provided data on the administration of the Covid-19 vaccine at the time.
Rapid Antigen Tests (RATs) and Polymerase Chain Reaction (PCR) tests of incoming travellers were chosen to be carried out at all airports around the nation in accordance with the policy. The officials added that daily immunisation and pedestrian screening tests were also carried out at the Torkham border.
The head of NDMA voiced faith in the national preparedness system and anti-Covid efforts. He directed the NIH to conduct weekly media briefings to inform the public and stakeholders and to issue precautionary advisories for educational institutions, social events, and communities.
Separately, Pakistan's health minister, Qadir Patel, stated that the government had enhanced the role of border and health services to counteract the threat posed by any Covid-19 subvariants. He emphasised that everything was "totally under control" and urged the populace to disregard rumours.
Patel emphasised that while 90% of the population had already had the Covid vaccine, the country's current Covid passivity ratio was only 0.3 to 0.5%. "A well-functioning system with an appropriate management staff is ready to create any emergency plans to handle any sub-variant of Covid," he continued.
The minister added, "The health system is completely equipped to deal with any sub-variant of the Omicron version, including BF7, in event of any unfavourable situation. The enforcement of international health rules is being overseen by Pakistan's Border and Health Services.
In the meantime, according to NIH authorities, 3,062 Covid tests were performed over the course of the last 24 hours, yielding the detection of 12 new cases. They noted that 11 patients were in serious condition, and the positive ratio was 0.39%. Six of the cases—the majority—were confirmed in Lahore, according to the officials.