Five students from a Lahore school are expelled, including a victim.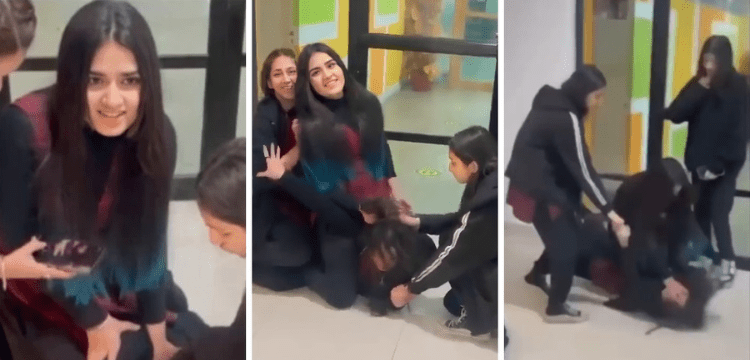 LAHORE: After a video of the bullied girl being tormented by her classmates went popular on social media, officials in Lahore took note and opened an investigation, leading to the expulsion of five students from the private school, among them the victim of bullying.
The school administration allegedly refused to cooperate with the authorities and give the investigating officer access to the CCTV footage of the incident. Four eyewitnesses' statements, however, were recorded. Principal Bilal and canteen worker Nasir are two of the seven people implicated in the case of assault against the student.
The education department also established a five-person committee to look into the situation. Two to three teenage females are seen holding the alleged victim by the hair and pinning her to the ground in the video, which was widely circulated on Twitter on Friday. The claimed victim was overheard being verbally abused by the girls and being told to "say sorry."
On another girl's cell phone, a video of the incident was seen being recorded. The official accounts of the Capital City Police Lahore and the Punjab Police had responded to the video shared on Twitter, saying a case was registered and that an investigation was launched into the incident.
The first information report (FIR), a copy of which is available with the Express Tribune, was registered on the complaint of the victim's father. According to the FIR, the complainant has said that her daughter was beaten by three of her class fellows at a private school located in DHA Phase 4 Lahore.
The father claimed in the FIR that his daughter's class fellows were drug addicts and were "forcing my daughter into the drug culture which compelled me to send a video of her doing drugs to her father".
"In order to take revenge from my daughter, they assaulted her on the 16th of January, 2023," the complainant states in the FIR. According to the victim's father, the girls "My daughter was repeatedly knifed and they tried to strangle her. Additionally, they stole 1.5 tolas worth of her gold jewellery ".
The victim's father claims that a few people who witnessed and videotaped the incident have posted the footage on social media. He has also requested assistance from the Federal Investigation Department in this matte