COAS and UAE President talk about mutual relations.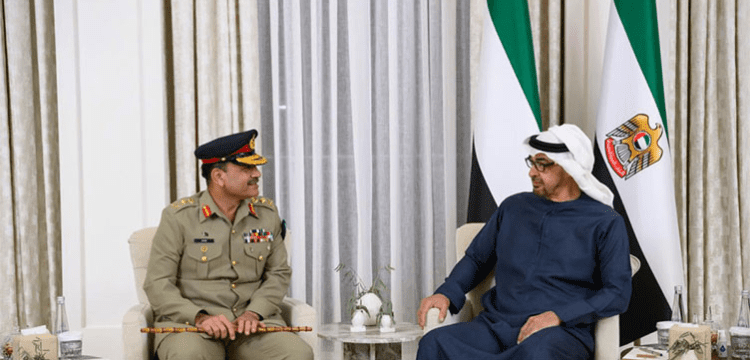 General Syed Asim Munir
, the
Chief of Army Staff
(COAS), and Sheikh Mohammed bin Zayed Al Nahyan, the President of the United Arab Emirates (UAE), spoke on Tuesday about bilateral relations.
The army chief is in the UAE for the first time on an official visit, and he landed in Abu Dhabi today. The two leaders spoke about the regional situation as well as methods to strengthen bilateral ties and collaboration between the two nations.
General Munir had previously met Saudi Crown Prince Mohammed bin Salman at the winter camp at Al Ula, Saudi Arabia, where they had spoken about ways to improve ties between the Kingdom and Pakistan as well as several matters of concern to both countries.
The Holy Kaaba's doors were only opened for the COAS on his visit to Majid Al-Haram in Makkah during his time in the KSA.
The army chief travelled to Saudi Arabia and the United Arab Emirates for the first time last week on an official tour that lasted from January 4 to 10. The visit takes place at a pivotal time as Pakistan struggles with yet another balance of payments crisis.
Prime Minister Shehbaz Sharif is also set to fly to the UAE today after returning from Geneva, as part of Pakistan's frantic attempt to shore up its dwindling foreign reserves.
According to sources, he would speak with the wealthy Gulf state while being accompanied by Foreign Minister Bilawal Bhutto Zardari and General Munir.
Though specific reasons for PM Shehbaz's trip to the UAE are still unclear, it is widely assumed that it was prompted by Pakistan's escalating economic woes.
متحدہ عرب امارات كے صدر عزت مآب الشیخ محمد بن زاید آل نہیان نے پاكستان كے چیف آف آرمی اسٹاف جنرل عاصم منیر كا ابوظبی میں استقبال كیا اور علاقائی صورتحال اور دونوں ملكوں كے درمیان دوطرفہ تعاون وشراكت داری كو بڑھانے كے طریقوں پر تبادلہ خیال كیا pic.twitter.com/3wK6Yb4tG9

— UAE Embassy PK (@uaeembassyisb) January 10, 2023