Bushra Bibi moves IHC against NAB in Toshakhana Case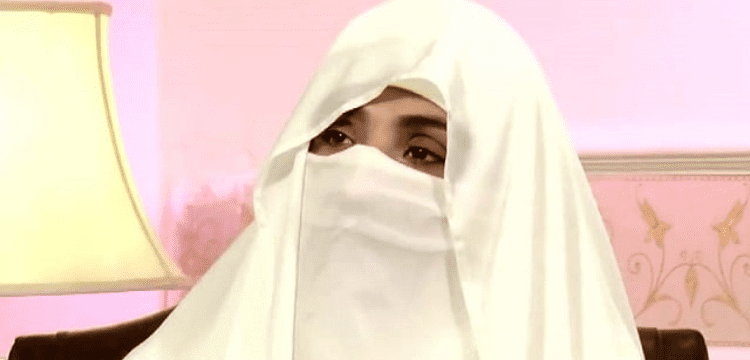 Bushra Bibi, the wife of Pakistan Tehreek-e-Insaf (PTI) Chairman Imran Khan and former first lady, moved the Islamabad High Court (IHC) on Friday against the National Accountability Bureau's (NAB) investigation into the Toshakhana case.
The former first lady challenged the NAB summons notices and asked the court to declare the February 16 and 17 notices illegal.
She asked that the NAB enquiry not be turned into an investigation until a decision is made on the application, to which NAB has been added as a party.
Also Read: NAB calls Bushra Bibi tomorrow in Toshakhana case.
"Until a decision on the application is made, NAB should be ordered to stop taking disciplinary action against me," Bushra Bibi requested.
The hearing for the plea has been scheduled for Monday.
The NAB summoned Bushra Bibi in the Toshakhana case last week, arriving at Imran's Zaman Park residence to deliver the summons.
Previously, on March 9, the accountability watchdog summoned the PTI chief and his wife to their Rawalpindi office for an investigation into the Toshakhana case.
Imran's summons was delivered to his homes in Islamabad, Bani Gala and Chak Shehzad.
According to the notice, Imran violated the law by selling gifts received during his tenure, including four Rolex watches, an iPhone given to him by the Qatar Armed Forces in 2018, as well as valuable watches and other gifts.
Because of clashes between police and PTI workers outside the Islamabad Judicial Complex, Additional District and Sessions Judge Zafar Iqbal cancelled the arrest warrants issued against the former premier in the Toshakhana case on March 18, allowing him to leave after marking his attendance without being indicted.
Imran was scheduled to appear before a sessions court on a complaint filed by the Election Commission of Pakistan (ECP) for allegedly concealing details of gifts he received from the Toshakhana in his asset declarations.