Blinken's point man to visit Pakistan.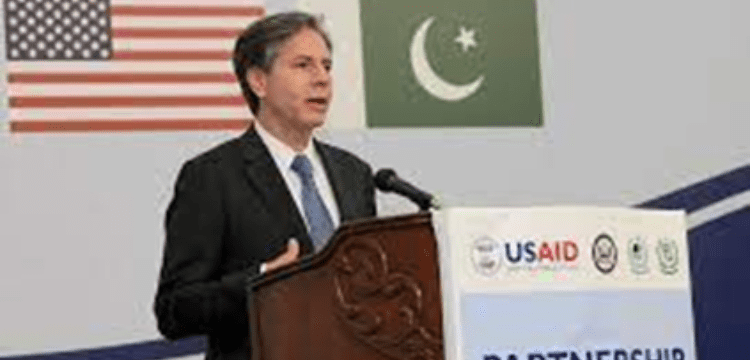 ISLAMABAD: As part of a fresh push by the two nations to broaden their collaboration beyond security and Afghanistan, the point man for US Secretary of State Antony J. Blinken is expected to arrive in Islamabad on Friday (tomorrow).
A delegation led by US Department of State Counselor Derek Chollet will also include Counselors from the US Agency for International Development (USAID) and the State Department's Bureau of South and Central Asian Affairs, Principal Deputy Assistant Secretary Elizabeth Horst and Clinton White.
According to a State Department statement, Chollet will arrive in Islamabad on February 17 after visiting Bangladesh. In Pakistan, the US delegation will meet with senior officials to discuss strengthening of economic ties, cooperating in addressing the impacts of the climate crisis, and expansion of the people-to-people connections.
"The delegation will also reaffirm the strong security cooperation between our nations. Counsellor Chollet will convey US condolences for the recent terrorist attack at a Peshawar mosque, and reaffirm our solidarity with the Pakistani people as they continue to recover from the devastating 2022 floods," the statement read.
The future of Pakistan-US ties have remained uncertain after the withdrawal of the US forces from neighbouring Afghanistan in August 2021 and also the changing priorities of Washington, which is more keen to expand its ties with India to counter China.
However, Pakistan is eager to keep up its ties with the US and is eager to extend their collaboration beyond security and Afghanistan. Observers, however, have doubts about Pakistan's ability to accomplish that goal.
However, there have been a lot of interactions between the two nations recently, especially following the change of leadership in April of last year.
The US group was travelling to Pakistan as Washington hosted a mid-level defence discussion between the two nations. The Pakistan-US Mid-Level Defence Dialogue is currently on its second phase and will end on Thursday (today).
The dialogue's initial session took place in Pakistan in January 2021. The Biden Administration had suggested a $450 million sale to Pakistan in September of last year in order to repair its F-16 fighter force. The action would support Pakistan's ability to address terrorism threats both now and in the future.