Bilawal Bhutto vows to take mother's mission forward.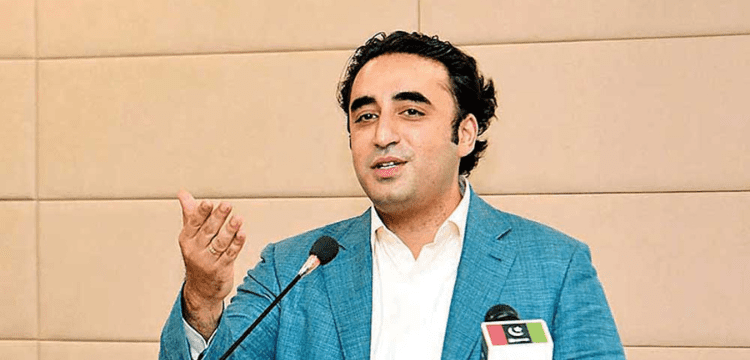 On Tuesday, PPP Chairman and Foreign Minister Bilawal Bhutto Zardari committed to carry out the task started by the late former prime minister and his mother Benazir Bhutto and complete it in the following 15 years. He made this statement during a speech during the party's power show at Garhi Khuda Bux to commemorate Benazir Bhutto's 15th death anniversary.
Many party members travelled to Larkana on Monday to take part in the ceremony. From Sohrab Goth, where a camp had been put up to send them off, party workers in Karachi left.
In the opening of his speech today, Bilawal stated that the assassins of Benazir imagined they would stop the progress of her party. "I would like to invite them to come and view the crowd that has assembled in Garhi Khuda Bux. The jiyalas [supporters] of Bibis are still here after all these years. "These individuals have demonstrated their allegiance to her and that they still remember Benazir and her political views. When we assert that "aj bhi Bhutto zinda hay" [Bhutto is still alive today] we mean it, he said.
Bilawal claimed that his mother was a patriotic Pakistani who left her name in history not only of her native nation but also of the entire world. She was a steadfast opponent of terrorism, the voice of the underprivileged, and an ambassador for the poor and downtrodden. She supported the ideologies of "hope, truth, and togetherness" in politics.
The PPP chairman emphasised that "it is our job to follow bibi's vision" and complete the task she had set for herself. The remaining work will be finished within the next 15 years, he assured. "President Zardari and I attempted to move her goal ahead," he said.
Bilawal recalled that his mother battled for safeguarding the Constitution all of her life and that it was because of her efforts that the "landmark" 18th Amendment was passed. "Provinces got their rights because of her,"
Imran Khan, the leader of the PTI, was criticized by him for his repeated attacks on the 18th Amendment. The first time a prime minister was sent home by the parliament was thanks to the Constitution that the BIBI battled for. The foreign minister criticized Imran for "bending his knees in front of the terrorists" without consulting the people or the legislature while discussing the country's increasing number of terror occurrences.
"I'll assess the government's appeasement of terrorists and speak with them about it. We will have to abandon that practice and establish the state's writ, he insisted.
Additionally, Bilawal asserted that the PPP was the only party capable of guiding the nation out of the current situation. Only the PPP had successfully dealt with terrorists in the past, and it will do so again, he continued.