Bail granted to Sheikh Rashid in murder plot case by IHC.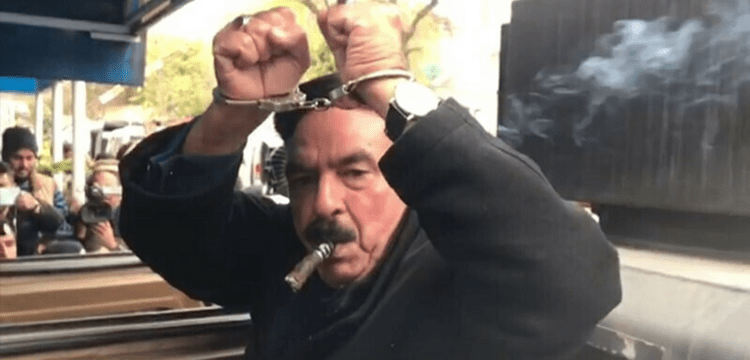 The Islamabad High Court (IHC) granted bail to Awami Muslim League chief Sheikh Rashid Ahmed on Thursday in exchange for Rs50,000 in surety bonds.
The former interior minister had applied for bail in the case filed against him for accusing former President Asif Ali Zardari of plotting to kill former Prime Minister Imran Khan.
The veteran Rawalpindi politician is currently incarcerated on judicial remand.
Rashid's lawyer, Salman Akram Raja, informed the court at the start of today's hearing that his client is seeking post-arrest bail. He went on to say that the bail plea in the case was denied because it was based on only one allegation.
"What was the accusation," asked the court.
Raja informed the court that a case had been filed against his client.
The lawyer added that the court while rejecting the bail said it feared that Rashid after being released may issue such statements again.
The court then once again asked the lawyer what accusation Rashid had made and whether it was run on any news channels.
"Yes, he gave a statement that was aired on news channels. Evidence does not indicate that it triggered a fight between Pakistan Tehreek-e-Insaf and Pakistan Peoples Party," argued the lawyer.
Once Raja completed his arguments, Islamabad advocate general Jahangir Jadoon came to the rostrum.
Jadoon contended that Rashid was a senior politician and his statements should have been parliamentary. He added that those who are in the government right now will be in opposition tomorrow.
The government lawyer told the court that Rashid had also abused Foreign Minister Bilawal Bhutto Zardari.
Raja stepped in and explained that the government lawyer was referring to a different case.
Meanwhile, the investigating officer informed the court that the Pakistan Electronic Media Regulatory Authority had provided details about Rashid's statement (PEMRA).
According to the officer, Rashid stated that he obtained this information from Imran Khan. However, he added that when Rashid was investigated, they were unable to find any evidence of Asif Zardari's alleged plot to kill Imran Khan.
The court then reserved its verdict in the case which was announced later.