At least 25 people are killed when a bus hits a ditch in Kohistan.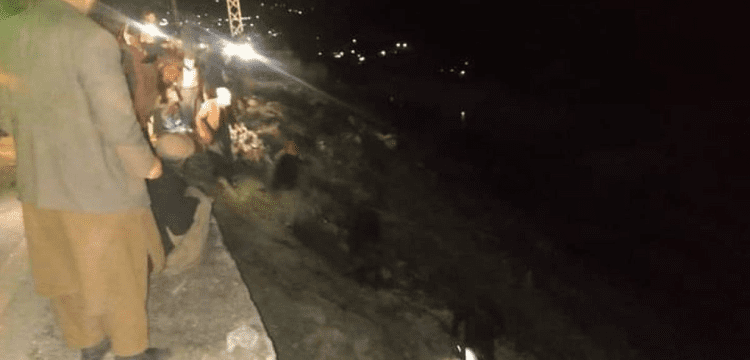 At least 25 people were killed on Tuesday when a passenger bus fell into a ditch after it collided with an abandoned vehicle near the Harban area of ​​Upper Kohistan on the Karakoram Highway in Khyber-Pakhtunkwa.
According to news, the accident took place when the bus travelling from Gilgit to Rawalpindi hit the small car after which both the vehicles plunged into the ditch.
Following the accident, residents of the area along with rescue officials pulled out the bodies and injured from the bus and shifted them to the hospital.
Several injured passengers were said to be in critical condition.
Eyewitnesses said the accident took place because the overspeeding bus hit the small vehicle as the driver lost control.
President Dr Arif Alvi and Prime Minister Shehbaz Sharif have expressed grief over the loss of lives in the bus accident and offered condolences to the bereaved families.
The prime minister gave instructions to staff to offer the injured patients access to all available medical facilities.
Khalid Khurshid, the chief minister of Gilgit Baltistan, also expressed his sadness over the bus tragedy and gave the go-ahead for the administration and other pertinent departments to evacuate the injured people and get them the best medical care possible.
A separate control room is being built up per instructions from the chief minister for enhanced emergency response coordination and supervision. In addition, the chief minister has ordered that a Gilgitian medical team be sent if necessary.
The incident occurs a week after a bus accident in the Lasbela region of southern Balochistan province that resulted in the deaths of 41 persons. The bus, which was travelling from Quetta to Karachi and was carrying about 48 passengers, veered off course after colliding with a pillar on a bridge.
On February 3, a vehicle and a truck collided head-on on the Indus Highway close to the Kohat Tunnel toll plaza, killing 17. The vehicle was travelling in the opposite direction when it struck the passenger coach, which was travelling from Lakki Marwat to Peshawar.
When a passenger coach crashed head-on with a tractor-trolley hauling stones and another passenger coach near Rajanpur in December, at least nine persons lost their lives.
In Pakistan, where traffic laws are frequently disregarded and many rural roads are in poor condition, fatal road accidents are not uncommon.
When a passenger van crashed into a deep ravine in Balochistan in June of last year, at least 22 people—including nine members of one family—were killed.