A parliamentary committee is unable to agree on the interim chief minister of Punjab.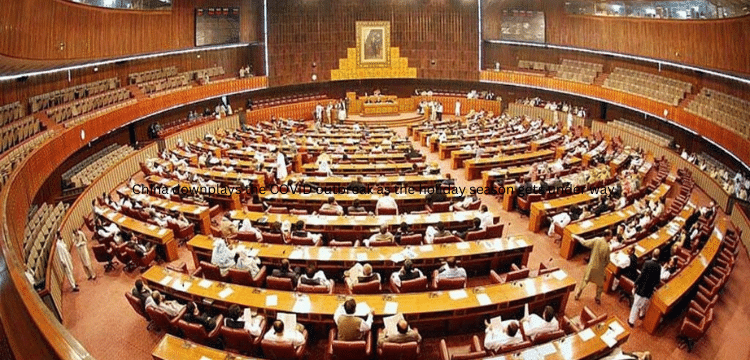 Friday, the parliamentary committee tasked with selecting the interim chief minister of Punjab was unable to come to a decision, leaving the subject up to the Pakistani Election Commission (ECP).
The ruling PTI-PML-Q alliance was represented by former minister Raja Basharat, Mian Aslam Iqbal, and Hashim Jawan Bakht, while the opposition was made up of Malik Muhammad Ahmad Khan, the special assistant to the prime minister, Syed Hassan Murtaza, and Malik Nadeem Kamran.
Former Punjab chief secretary Nasir Mahmood Khosa, current bureaucrat Ahmad Nawaz Sukhera, and Naseer Khan—reportedly a relative of outgoing Punjab Chief Minister Chaudhry Parvez Elahi—were the original candidates put out by the ruling alliance.
Elahi nominated Sukhera and Naveed Akram Cheema, a former chief secretary, as the interim CM, but the Thursday notice summoning the meeting decreased the number of nominees from three to two, with the second one being a new entry.
Ahad Cheema, the special assistant to the prime minister, and Mohsin Naqvi, the proprietor of a media outlet, were the candidates put out by opposition leader Hamza Shehbaz for the job of interim chief minister. After the meeting, Raja Basharat spoke with the media in Islamabad and claimed that from "every viewpoint," the names chosen by the PTI for the caretaker nominee were superior to those chosen by the opposition.
He exhorted the opposition to "make a decision that is acceptable to the public," saying they were "locked on two." The best candidate for the position should be presented by the election commission, he said. In the event that a "controversial individual" was selected, he stated that the PTI-PML-Q alliance would exhaust all other avenues and turn to the court.
A person with "administrative knowledge and good character" should be appointed, according to Mian Aslam Iqbal. He continued, "Experienced people must be brought forward." The opposition, for its part, expressed shock at the lack of agreement on the subject.
The candidates put out by the PTI-PML-Q alliance, according to Malik Nadeem Kamran, were not "eligible otherwise a discussion may still have taken place." Elahi's prior declaration that he would approach the Supreme Court was criticised by him as exhibiting "lack of maturity," he said. In place of Ahad Cheema, Malik Muhammad Ahmad Khan urged that the PTI-PML-Q pick a "more professional individual."
He stated that Cheema had drawn the ire of the ruling coalition because a corruption case against him was still pending. Additionally, he argued in favour of Naqvi's appointment, claiming that he was a "non-partisan guy" and a "media tsar who has worked with CNN. Syed Hassan Murtaza expressed sadness that the two parties were unable to come to a resolution. Because members are dispatched with the directive that "you don't have to accept anything," he claimed, "we are now unable to determine and cannot come to a consensus on anything."