Mobilink Bank Receives 'Best Digital Banking Award' For Top Services in 2022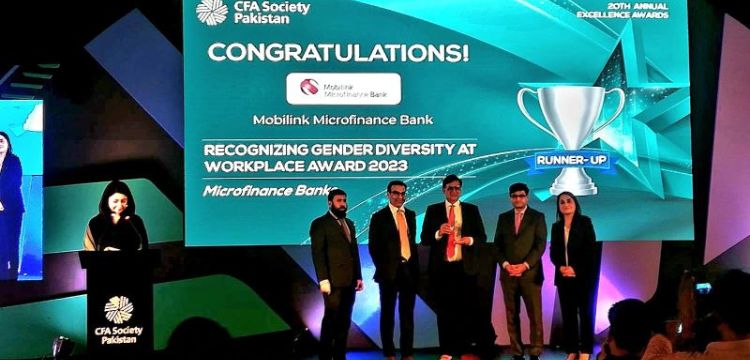 Mobilink Bank's impressive achievements have been acknowledged and celebrated at the prestigious 20th Annual Excellence Awards, hosted by the CFA Society Pakistan.
The bank received the esteemed title of "Best Digital Banking Services Award of the Year 2022" in the Microfinance Bank Category, solidifying its status as a pioneer in the realm of digital banking.
Additionally, Mobilink Bank was recognized as the 'Runner-up' in the Gender Balanced Workforce Award category. These accolades not only underscore Mobilink Bank's unwavering commitment to excellence but also highlight its continuous endeavors to redefine industry norms and instigate positive transformations in the financial sector.
Also Read: Mr. Naguib Sawiris Receives Best Foreign Real Estate Investment Award in Pakistan
Mobilink Bank operates under the VEON group, a global digital operator offering integrated connectivity and online services in seven countries. VEON's digital operator strategy is geared toward enhancing digital inclusivity and driving economic growth in regions that collectively house over 8% of the world's population.
In response to these accomplishments, Ghazanfar Azzam, President and CEO of Mobilink Bank, expressed, "Receiving the esteemed Best Digital Banking Services Award underscores the bank's dedication to delivering cutting-edge financial services. Mobilink Bank remains unwavering in its commitment to leverage technology to improve its offerings, making digital and financial solutions more accessible and efficient for our customers. This award further fuels our relentless pursuit of pushing the boundaries of digital banking, showcasing our determination to introduce innovative solutions that benefit all."
Haaris Mahmood Chaudhary, Chief Operating Officer, commented, "This recognition significantly boosts our commitment to elevate Pakistan's digital financial landscape. We are eager to lead further advancements in the sector in the coming years, playing a pivotal role in advancing financial inclusion across the nation."
Mr. Azzam also highlighted the bank's commitment to Diversity, Equity, and Inclusion (DEI), stating, "We are passionately dedicated to advancing gender equality. Our central mission revolves around creating an inclusive workplace where every individual thrives, regardless of their gender."
Aleena Tanvir, Chief People Officer of Mobilink Bank, added, "Through purpose-driven initiatives, from strategic recruitment to comprehensive training and empowerment programs, we are firmly committed to achieving a gender-balanced workforce. This recognition by the CFA Society underscores our dedication to setting a powerful example in the financial sector, championing the cause of gender equality."
Mobilink Bank is at the forefront of promoting workplace diversity, fostering an inclusive environment that acknowledges and celebrates each individual's unique contributions. Simultaneously, it is leading the transformation of the banking industry through innovative digital banking solutions.
With steadfast dedication to both diversity and digital innovation, the bank is reshaping the financial landscape and championing a more inclusive and equitable future for all.