Massive Fire Erupts In Islamabad's Bus Shed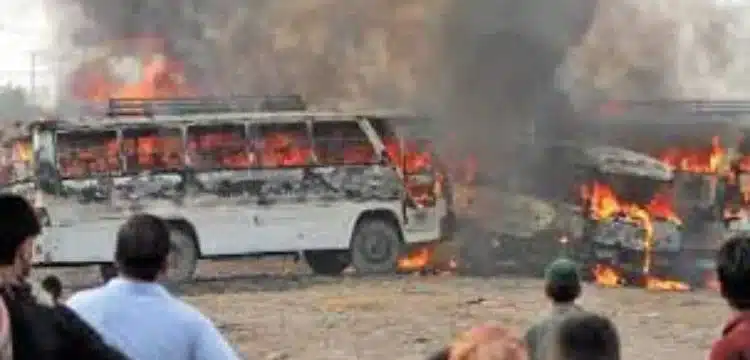 A big fire broke out early today at an Islamabad bus shed. The fire devoured most of the vehicles parked in that location, destroying them.
The buses, according to the facts, belonged to the government. These buses, however, had supposedly been out of service for some years.
The cause and nature of the fire are still unknown. However, the incident terrified people because it occurred directly next to a gas station in a bustling metropolitan location, as depicted in the social media footage.
سرکاری بسیں عرصہ دراز سے ناکارہ کھڑی تھیں، اب راکھ ہو گئیں۔۔!! pic.twitter.com/TXb1OiK4Cs

— Khurram Iqbal (@khurram143) August 23, 2023
Metro Station Repair Delay
The 6th Road Metro Bus Station, another fire victim, is also experiencing delays in repair work. The delay was caused by budgetary disagreements between the Punjab Mass Transit Authority (PMTA) and the Rawalpindi Development Authority (RDA), according to a report.
Previously: Bus Catches Fire Near Pindi Bhattian
A district administration officer blamed a lack of cash. According to the official, the Punjab caretaker administration will not pay for the improvements, which will cost between Rs. 120 million and Rs. 140 million.
Following Imran Khan's arrest, the station was demolished due to societal unrest. Rioters set fire to the metro station, destroying the escalators, elevators, ticket booths, air conditioning, and automatic doors.
As a result, passengers on the 6th Road, including ladies and the elderly, must trek to either Rahmanabad or Chandni Chowk.