Shadab Khan's wedding glimpse, as he shares baraat pictures.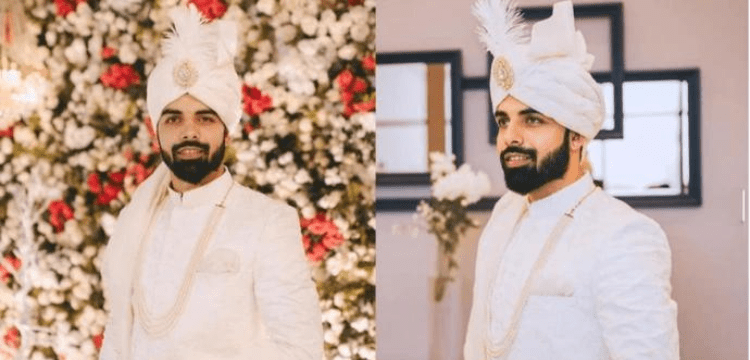 Congratulations are in order for Shadab Khan, as he officially wed Saqlain Mushtaq's daughter today during a wedding ceremony. The all-arounder opted for a sophisticated look for his special day by donning an ivory sherwani and matching turban.
The Islamabad United skipper can be seen cheerfully welcoming his guests at the little gathering in a number of online videos.
Humayun Alamgir is the designer of Shadab's wedding attire. An Instagram video showing the batsman trying on various turbans for the function tonight was posted by the designer's official account. The caption accompanying the photo said, "We are happy to have the opportunity to design your outfit for this event."
The cricketer's wedding celebrations began yesterday with a close-knit mehndi ceremony. Samiya Khan, the wife of Hassan Ali, a friend and fellow cricketer, posted a picture of the private occasion on social media.
Shadab can be seen seated on the stage in the Instagram video wearing a heavily embroidered, deep green sherwani. The groom laughs and turns to face the camera as Samiya forces him to wear a garland in the later scenes of the film.
Prior to this, Shadab revealed his nikkah by saying he had "joined mentor Saqi Bhai's family" last month.
He wrote, "Alhamdulilah today was my nikah. It is a big day in my life and the start of a new chapter. Please respect my choices and those of my wife and our families. Prayers and love for all."
Alhamdulilah today was my Nikkah. It is a big day in my life and start of a new chapter. Please respect my choices and those my my wife's and our families. Prayers and love for all pic.twitter.com/in7M7jIrRE

— Shadab Khan (@76Shadabkhan) January 23, 2023