In response to Maria B's critique of the Joyland billboard in Kuch Ankahi, Faysal Quraishi wonders if we could instead display Pathaan posters.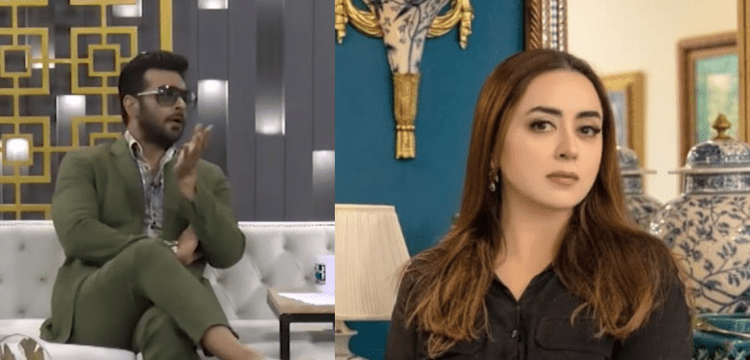 The fourth episode of Kuch Ankahi, which aired on January 28, drew everyone's attention, but not for the reasons the show's creators probably anticipated. Not the conversation in a moment when Qudsia Ali's Tanya and Sajal Aly's Aaliya are bickering over their sister Tanya's marriage, but the set design, which included a poster for the Pakistani movie Joyland, caused the scene to become viral. Designer Maria B was incensed by the inclusion of Joyland's poster, and Faysal Quraishi was fed up with it. She expressed dissatisfaction with the billboard's inclusion, and Quraishi responded by inquiring as to whether she would have preferred a poster for Shah Rukh Khan's Pathaan.
On Tuesday, he appeared on the Kya Drama Hai programme on 24 News HD to evaluate the fourth episode of Kuch Ankahi alongside Rubina Ashraf and Atiqa Odho. The host questioned them about the designer's perspective on the drama and the posters appeared behind Aly in a brief moment as they went down the nearly 40-minute clip scene by scene.
Odho defended the usage of the posters by claiming that Aly is shown as a "outgoing, extroverted career-driven lady," but Quraishi stopped her off by claiming that Tanya, an aspiring filmmaker, shares the room and that it is appropriate to utilise movie posters from Pakistani productions. "These are posters for our own, recently released movies. Should we substitute Pathaan's poster? A movie where Shah Rukh Khan is praised and the ISI is abused, he remarked. The host continued by stating that Maria B might not have objected to that given her apparent "problem" with Pakistani movies.
Odho reiterated her position that it's fantastic if individuals express their opinions because it implies they are open to dialogue and debate. "That is the theory behind evolution. When people are interested in it and talk about it, the industry expands. So, if someone has an issue, we should recognise that it is their opinion and not try to change it. Expectations for Nadeem [Baig] in terms of the direction are very high. He is a friend of mine and we have worked together. Some of the elements in this episode felt flat to me, and some of the situations were really flat.
Maria B had criticised the drama for "promoting" Joyland in an Instagram story that is no longer active. Her criticism of the movie refers to her early worries about the movie's representation of transgender persons, which were eventually dispelled. The designer has consistently criticised the movie and has said a number of ignorant things about transgender people.
Saim Sadiq is the director and writer of the movie Joyland, which Apoorva Guru Charan, Sarmad Sultan Khoosat, and Lauren Mann also helped to make. The ensemble cast of the movie stars performers like Gilani, Sania Saeed, Sohail Sameer, and Salmaan Peerzada in addition to Junejo, Khan, and Farooq, who are making their acting debuts.