Fans sparks interest by Andrew Garfield and Amelia Dimoldenberg's flirty red carpet talk.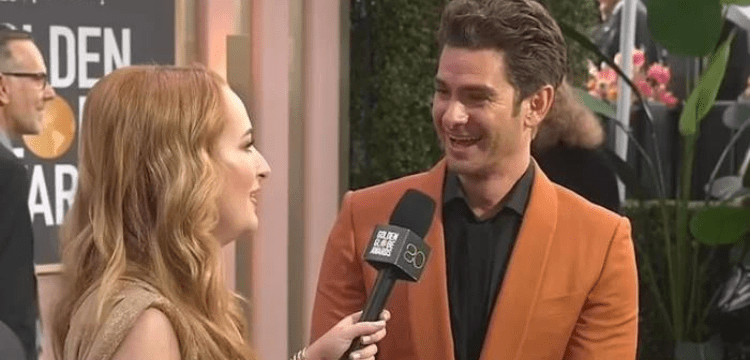 Andrew Garfield gained attention when he walked the red carpet at the 2023 Golden Globe Awards, which were held on January 10 in Beverly Hills. The 39-year-old star of The Amazing Spider Man, who was nominated for Best Performance by an Actor in a Limited Series for Banner of Heaven, provided fans with a memorable red carpet interaction with red carpet anchor Amelia Dimoldenberg.
As a result of their incredible connection, a video of Garfield flirting with the Chicken Shop Dates actress has gone popular online. Garfield was seen in the viral video making fun of Amelia, who reprimanded him by saying, "We must stop meeting like this." She made a remark, to which Garfield replied, "I only ever want to see you."
When the presenter asked the Hacksaw Ridge actor, "What?" Garfield responded, "I didn't finish my statement," and continued, "I only ever want to see you in these kinds of situations." Amelia cheekily added she would like to see him in different scenarios because she invited him to her birthday party on January 30 during the about 2-minute long amusing discussion.
Amelia responded that she is an Aquarius when Garfield, who was enjoying the conversation, asked what sign she belongs to. The Tick, Tick, Boom star answered, "It's good if your sun sign matches someone else's moon sign.
On TikTok, the popular video has already received 90,000 likes, with viewers applauding the actors' connection. Andrew was nominated for Best Actor but lost out to Evan Peters for his critically-acclaimed performance in the Netflix series, Dahmer – Monster: The Jeffrey Dahmer Story.