Justice Ibrahim Appointed Chief Justice Of Peshawar High Court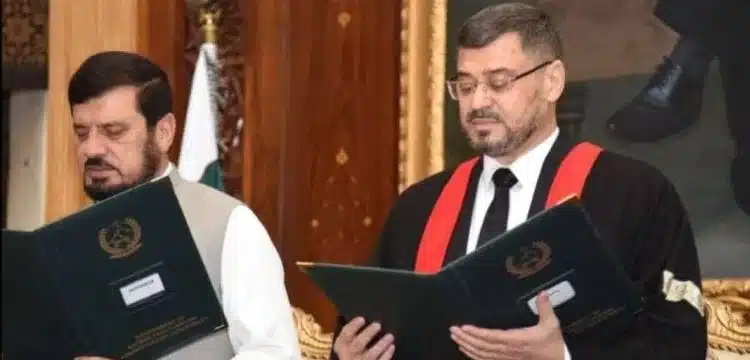 On Friday, Justice Mohammad Ibrahim Khan took the oath of office as Chief Justice of the Peshawar High Court. The oath of office was administered at the Governor's House by Khyber Pakhtunkhwa Governor Haji Ghulam Ali. The Chief Minister, high court justices, lawyers, caretaker ministers, government employees, and other dignitaries attended the occasion.
The President confirmed the nomination on August 22, based on the Judicial Commission's recommendation for the appointment of judges under Article 175-A(13) of the Constitution. Since July 6, 2023, Justice Ibrahim Khan has served as acting Chief Justice.
The seat of chief justice of the Peshawar High Court fell vacant following the appointment of the then-chief justice, Musarrat Hilali, to the Supreme Court.
Throughout his distinguished career, Justice Ibrahim Khan built a solid reputation in legal circles for his bold and objective decisions. On 11 August 2016, he was appointed as an additional judge to the Supreme Court, and on 1 June 2018, he was confirmed as a judge.
Also Read: President Alvi Approves Chief Justice Of PHC
Justice Ibrahim Khan, who was born on April 15, 1962 in Swabi, will retire on April 14, 2024. His legal career began in May 1984, when he received an LLB from Khyber Law College, University of Peshawar. After nearly eight years of practicing law, he entered the court service, where he served in a variety of important judicial capacities.
One of his most remarkable accomplishments was conducting the judicial investigation into the devastating 2014 Peshawar Army Public School tragedy, in which he thoroughly examined the opinions of 102 affected individuals, including bereaved parents and government officials. The 525-page report that resulted was submitted to the Chief Justice of the Supreme Court.
Throughout his career, Justice Ibrahim Khan taught at the International Islamic University in Islamabad and the Khyber Law College at the University of Peshawar.