Almost 91000 children miss anti polio drops in Kp.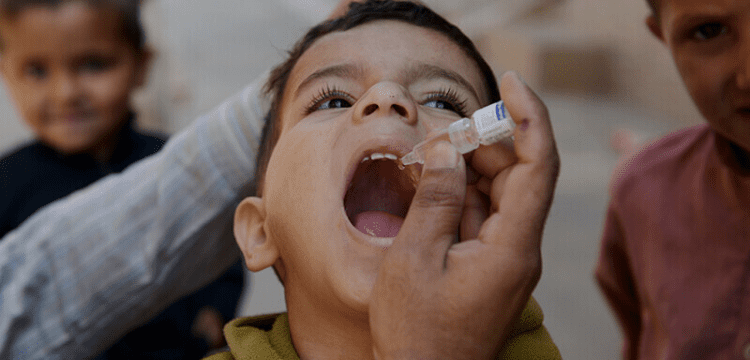 PESHAWAR: According to a health department report, up to 91,000 Khyber-Pakhtunkhwa children under the age of five missed polio drops during the seven-day anti-polio immunisation programme that began on January 16 in the province.
According to the report, in 36 districts of the province, more than 71,530 children were not at home when they were immunised, and 20,305 parents refused to give their kids polio doses.
According to the report, out of the 7.459 million youngsters who were scheduled to receive vaccinations during the week-long campaign, 7.455 million also received vitamin A and anti-polio drops.
The majority of the refusal cases, according to the report, were reported from Peshawar, where 7,352 parents refused to have their kids receive vaccinations.
Similar to this, 10,898 kids were not at home when polio teams visited. Following Bannu with 2,251 refusal cases, North Waziristan was the second district in the province where 2,919 parents refused to vaccinate their children against polio.
Other districts with cases of refusal were Charsadda (215), DI Khan (1,674), Hangu (9), Haripur (2), Karak (742), Khyber (206), Kohat (161), Lakki Marwat (1,437), Mardan (934), Mohmand (1,241), Nowshera (220), Swabi (400), Swat (5), Tank (304), Torghar (4), and South Waziristan (229).
The report further said that 1,144 vulnerable children missed the dose in Abbottabad, 2,929 in Bajaur, 4,622 in Bannu, 639 in Batagram, 887 in Buner, 3,772 in Charsadda, 735 in Chitral Lower, 721 in Chitral Upper, 8,294 in DI Khan, 3,720 in Dir Lower, 784 in Dir Upper, 986 in Hangu, 1,422 in Haripur, 1,814 in Karak, 2,976 in Khyber, 1,539 in Kohat, 50 in Kohistan Lower, 144 in Kohistan Kohistan Upper, two in Kolaipalas, 891 in Kurram, 2,858 in Lakki Marwat, 1,266 Malakand, 2,779 in Mansehra, 3,470 in Mardan, 3,553 in Mohmand, 4,628 in Nowshera, 380 in Orakzai, 18,250 in Peshawar, 335 in Shangla, 2,625 in Swabi, 6,084 in Swat, 2,042 in Tank, 79 in Torghar, 4,589 in North Waziristan and 826 in South Waziristan.
Up to 903,297 kids in Peshawar received the life-threatening polio vaccine. 20 instances of polio were reported from three southern districts of the province last year, including 17 from North Waziristan, 2 from Lakki Marwat, and 1 from South Waziristan, according to the report.