Four Soldiers Martyred In Chitral Attack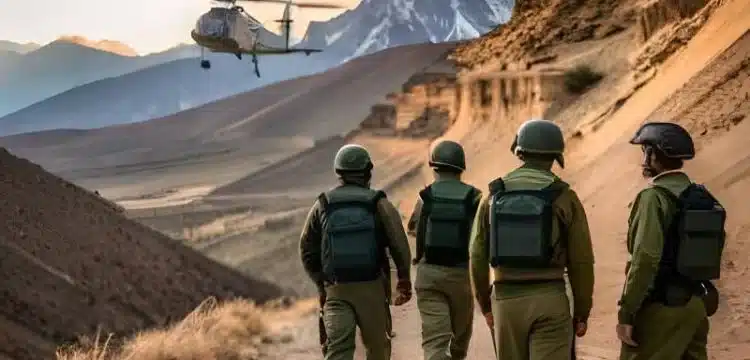 Four soldiers met their martyrdom while defending two Pakistan Army checkpoints near the Afghanistan border in the Kalash area of Chitral District, as reported by the Inter-Services Public Relations (ISPR) on Wednesday.
The ISPR issued a statement on September 6, 2023, describing a significant terrorist attack on two Pakistani military posts located near the Pakistan-Afghanistan border in the general vicinity of Kalash, District Chitral. The statement highlighted the soldiers' courageous resistance, successfully repelling the attackers and causing substantial casualties among the terrorists.
In the intense firefight, 12 terrorists lost their lives, with many other militants sustaining critical injuries. The military's media division mentioned that they had identified and promptly shared information about the movement and gathering of terrorists in the Gawardesh, Pitigal, Barg-e-Matel, and Batash areas of Nuristan and Kunar provinces in Afghanistan with the interim Afghan government. Additionally, it was noted that due to an elevated threat level, the Pakistani posts were already on high alert.
Also Read: Army Chief Commits To Stabilize Currency Crisis
The ISPR also reported ongoing efforts to clear the area of any remaining terrorists, emphasizing the unwavering determination of Pakistan's security forces to eradicate the terrorism menace. They commended the brave people of Chitral for their steadfast support in safeguarding the peace of the region.
The statement concluded by urging the interim Afghan government to fulfill its responsibilities and prevent the use of Afghan territory by terrorists for conducting acts of terrorism against Pakistan.
General Asim Munir, the Chief of Army Staff (COAS), reaffirmed the nation's resilience against terrorism just days before this attack. During a visit to Bannu in Khyber Pakhtunkhwa (KP), following the suicide bombing near a military convoy in the Jani Khel area that claimed the lives of nine soldiers, he expressed that the nation cannot be "coerced" by the terrorists' cowardly tactics. General Munir asserted that the soldiers, law enforcement agencies, and the nation as a whole would continue their unwavering fight against the menace of terrorism. He paid tribute to those who had made the ultimate sacrifice, vowing that their sacrifices would be forever honored.