Former Indian captain Azharuddin advises Babar Azam on batting struggle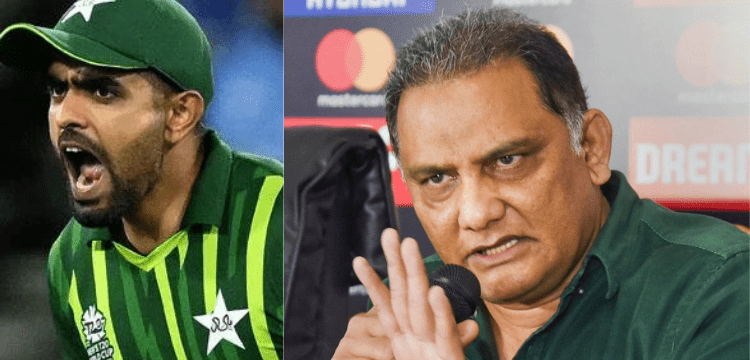 Former Indian captain Azharuddin remarked that there is no problem with Babar Azam batting at lower numbers in T20 cricket and advised that the young batsman is not a natural opener and may be overloaded by the burden of leadership.
According to the details, former Indian captain Azharuddin claimed that Babar Azam and Mohammad Rizwan would have squandered more overs in the top order of T20 in the beginning during a special interview with Cricket Pakistan, the largest website for Pakistani cricket, in Dubai.
"Yes, the captain of the Pakistan team is not a natural opener; if there is a problem with the form, he finds it difficult to score runs; there is no problem if he bats at lower numbers as well; the pressure of leadership overburdens him. Performance not affected, but not showing traditional form in short format World Cup," said Azharuddin.
Additionally, he claimed that Virat Kohli is somewhat superior to Babar Azam due of his extensive experience.
There is no comparison because both players play according to their respective styles, but the Indian batter is the best and has a lot of experience. Babar Azam's performance is often unaffected by Kohli's long record of success due to his leadership in all three formats, yet he was unable to display his regular form during the T20 World Cup "Azharuddin remarked.
When asked if Shaheen Shah Afridi might be compared to former Pakistani pacer Wasim Akram, Mohammad Azharuddin responded, "The pacer cannot be compared to Wasim Akram. Shaheen Shah Afridi has played very little cricket."
Azharuddin responded when questioned about players' careers not lasting too long: "options for selection and format. Our age cannot be compared to modern cricket, since it appears that cricketers are involved in multiple events, including leagues, at the same time "said he. However, he insisted, "There was a class of cricketers at that time, and there are many famous names who are playing well even now."
He added that teams will attempt to form combinations in the matches that would be played prior to the World Cup. Cricketers will have the best opportunities to showcase their talents and enhance their skills in the ILT20 league.