Cricket World Cup 2023 Trophy Composition And Value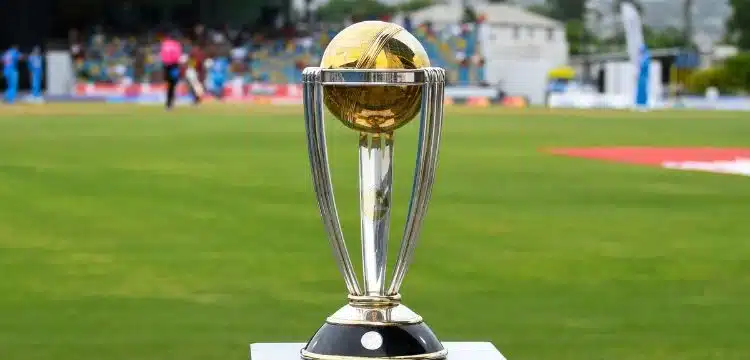 The 2023 Cricket World Cup war among 10 teams begins on October 5.
Over the next month and a half, players from 10 countries will aspire to claim the sport's most prestigious prize.
Unlike the 20-over version, this tournament occurs only once every four years, enhancing its prestige.
On November 19, the champion will be revealed and the winner will be awarded the ODI trophy, which has an intriguing history.
Read more : Pakistas World Cup Hopes Rest on Babar Azams Form
Has the World Cup trophy always been the same?
The first three editions of the 50-over World Cup took place in England, starting in 1975. It was initially called the Prudential Cup, named after the primary sponsor, an insurance company.
In 1987, the tournament left the UK, and each subsequent edition featured a different sponsor and trophy. It wasn't until 1999 that the International Cricket Council introduced its own trophy.
Prudential World Cup in 1975, 1979, and 1983:
The original World Cup trophy had a simple design resembling the Wimbledon men's championship medal. The Prudential Cup, named after the tournament's sponsor, Prudential Insurance, was claimed by the first three World Cup champions who competed in the UK. It is now on display at Lord's Cricket Museum.
Reliance World Cup, 1987:
For the first time, the tournament ventured outside England and made its way to the cricket-loving subcontinent. Reliance Industries sponsored the World Cup.
Australia received a gold-plated, diamond-studded trophy as their prize. At the time, the trophy was reported to cost around 600,000 Indian rupees.
Benson & Hedges World Cup, 1992:
Perhaps the most exquisite World Cup trophy ever created. The Waterford crystal trophy featured a beautiful globe on a hardwood base, along with the logos of each of the nine participating teams.
The trophy was reportedly valued at about £8,000 and is currently located at the National Cricket Academy in Lahore.
Wills World Cup, 1996:
As the event returned to the subcontinent, three countries—India, Pakistan, and Sri Lanka—co-hosted it. The most elaborate World Cup trophy was won by Sri Lanka after their convincing victory over Australia in the final in Lahore.
ICC World Cup, 1999–present:
The international governing body eventually decided to use a single trophy for all future winners. The new design features a golden globe supported by three silver columns, representing a cricket ball and three stumps. The names of previous winners are inscribed on the trophy's base.
The original trophy made in 1999, won by Australia, is retained by the ICC, while the winning team receives a replica.
The trophy stands at 60 cm in height, weighs 11 kg, and is made of silver and gold. Estimates suggest the precious metals in the trophy are worth around $30,000.