46 Pakistani organizations won Annual GDEIB awards 2022.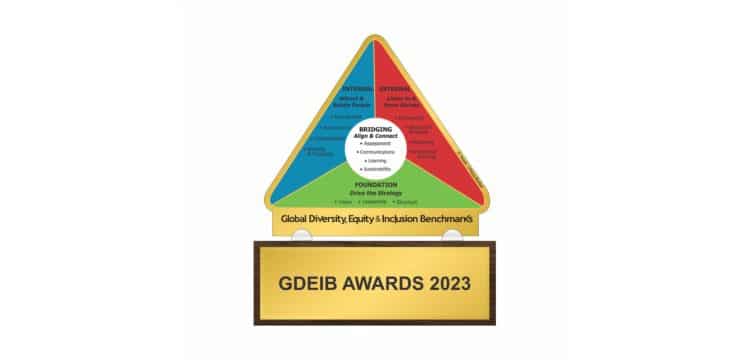 Islamabad :- 46 Pakistani organizations have won the Global Diversity, Equity and inclusion Benchmarks annual award 2022. According to details, HR Metrics conducts Global Diversity, Equity & Inclusion Benchmarks (GDEIB) awards on annual basis through a merit-based process in which organizations are given the opportunity to disclose their diversity, equity, and inclusion accomplishments with reference to Global DEI Benchmarks standards, with a focus on social and economic impact on relevant stakeholders.
Zahid Mubarik, CEO HR Metrics and Board Director, The Centre for Global Inclusion, USA announced jury result of GDEIB awards. Based on year 2022 assessment, total 46 organizations have won the GDEIB awards among them, Habib Bank Ltd. (HBL) is declared as Pakistan most inclusive company 2022. Based on 6 years cumulative score, Nestlé Pakistan stands at the top.
Year 2022, top 10 companies are Engro Fertilizers Limited, Engro Vopak Terminal Limited, METRO Pakistan (Pvt) Ltd. Engro Polymer & Chemicals Ltd, Nestlé Pakistan Ltd., Bank Alfalah Limited, HBL MicroFinance Bank Ltd, Engro Energy Limited, Pakistan Tobacco Company, and Standard Chartered Pakistan. Overall winner companies are Jazz, AGP Limited, Aga Khan University, Faysal Bank Limited, Soneri Bank Limited, Allied Bank Limited, HRSG, Engro Corporation Limited, Pakistan Telecommunication Company Limited, Abacus Consulting Technology Limited, Novo Nordisk Pharma (Private) Limited, National Bank of Pakistan, Greenstar Social Marketing (Guarantee) Limited, JS Bank Ltd, Hashoo Foundation, U Microfinance Bank Ltd, United Bank Limited (UBL), TPL Properties Limited, TPL Corp Ltd., Foodpanda, Habib Metro Bank, Mobilink Microfinance Bank, Martin Dow Group, Bayer Pakistan Private Limited, Philip Morris Pakistan, PepsiCo Pakistan, Jubilee Life Insurance, Feroze1888 Mills Limited, Nishat Mills Limited (Apparel Division), Telenor Pakistan, Fauji Fertilizer Bin Qasim Limited, ACT Engineering Services Pvt. Ltd, Roots Millennium Education Group Pakistan, FINCA Microfinance Bank Ltd and Millennium Institute of Technology and Entrepreneurship. Global DEI Awards will be presented to CEOs of winner organizations on 6 March 2023 at Pearl Continental Hotel Karachi.
Jury for GDEIB Awards comprised of leading global DEI experts including Lynda White, President Mcleod White, Montreal Canada, Former Board Chair The Centre for Global Inclusion USA, Karen Francis PhD. Vice President and Chief Diversity, Equity, Inclusion Officer, American Institutes for Research USA, Moneeza Usman Butt, Partner KPMG Taseer Hadi & Co, Pakistan, Saad Amanullah Khan, Chairman of Public Interest Law Association of Pakistan, Dr. Jawad Syed, Professor of Organizational Behavior and Leadership at the Suleman Dawood School of Business Lahore University of Management Sciences (LUMS) and Zahid Mubarik CEO HR Metrics. Awards were assessed on merit-based scoring method including Best Practice, Progressive, Proactive, Reactive, and Inactive.