11 PIA Flights Immobilized For Non Availability of Funds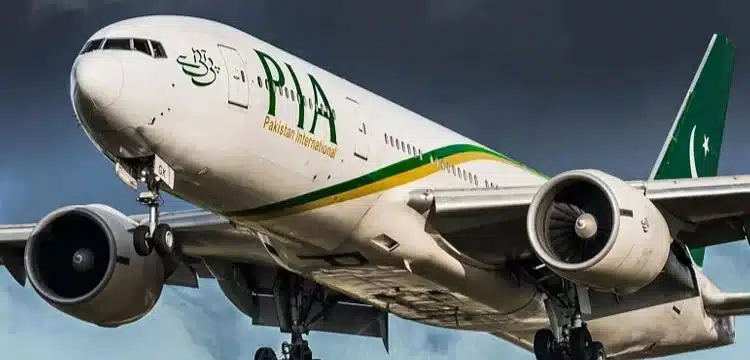 In an unfortunate turn of circumstances, Pakistan International Airlines (PIA) has been forced to ground a significant portion of its fleet, with 11 aircraft, including three Boeing 777s, being grounded. The national carrier is dealing with the severity of a financial crisis that has crippled its operations.
PIA, which normally operates a fleet of roughly 30 aircraft, has been embroiled in a complex situation for the past three years as it struggles to get spare parts due to a lack of money. This scarcity has resulted in the grounding of 11 aircraft, causing a ripple effect throughout its operational infrastructure.
Two wide-body Boeing 777 planes were grounded in 2020, with one more following suit in 2021. An additional five A320 aircraft were grounded, with two grounded in 2021 and three more in 2023. The troubled fleet also included three ATR aircraft, one of which was grounded in 2020, another in 2022, and the last in 2023.
Also Read: UAE Passenger Accuses PIA of Stealing Gold Jewelry
A PIA representative confirmed the upsetting news, stating that 11 planes had been grounded due to a lack of money for the purchase of critical spare components. The troubled airline has become entangled in severe financial difficulties, which have been exacerbated by its reliance on foreign money.
A high-ranking official inside the airline elaborated on the severity of the problem, revealing that PIA's whole fleet consists of 31 planes. Some of the 11 grounded planes, which include Boeing 777s, Airbus models, and ATRs, are irreparable owing to a lack of crucial components, such as engines.
According to the official, PIA is now operating with the remaining 20 aircraft, executing flights in accordance with the available resources. However, a rise in flight frequencies, particularly on foreign routes, could aggravate the airline's situation, increasing the danger of aircraft shortages.
According to its website, PIA's operational network encompasses Asia, Europe, and North America, encompassing 19 nations. The resulting grounding of aeroplanes has caused passengers annoyance, prompting flight rescheduling and, in some cases, cancellation. Several travellers have also reported being trapped within airport grounds.
This perilous financial catastrophe has long dogged PIA, creating a bleak financial picture. Chronic losses have plagued the airline for years, necessitating numerous government interventions to save its existence.
Recent government attempts have included a Rs. 30 billion rescue fund infusion for PIA. However, the effectiveness of this lifeline in reviving the airline's prospects remains doubtful.