PTI Senator Azam Swati released from Islamabad sub-jail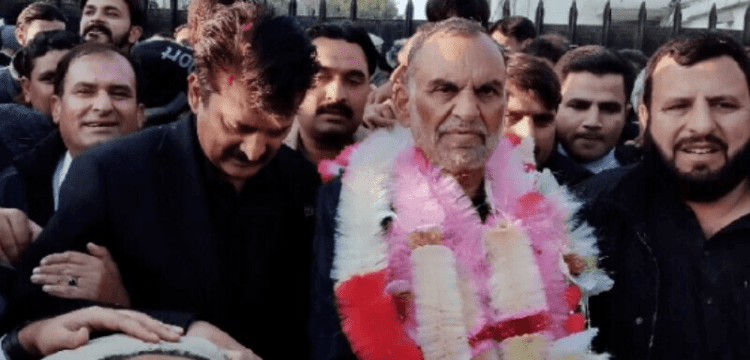 Senator Azam Swati was released from an Islamabad sub-jail on Tuesday after being detained since late November for his controversial tweets about senior military officers. Swati was arrested on November 27 after the Federal Investigation Agency (FIA) booked him in Islamabad over a "highly obnoxious campaign of intimidating tweets  against state institutions".
Swati was booked and arrested by the FIA for the second time in less than two months for tweets about army officials. Last month, the senator requested bail from an Islamabad special court. However, Special Judge Central Azam Khan dismissed the plea ruling that he had "committed the same offence twice".
Swati then filed a post-arrest bail petition in the IHC through his lawyer, Babar Awan, challenging the special court's orders. Swati's post-arrest bail was approved by the IHC on Monday in exchange for surety bonds worth Rs200,000. Swati's lawyers presented a copy of the IHC ruling as well as the receipt of the surety bonds in the court of Special Judge Central Azam Khan earlier today.
Following the judge's release orders, Swati's lawyers went to the Crime Intelligence Agency (CIA) building, which had been declared a sub-jail in November, to complete the legal formalities. Swati claimed that the country's justice system was "on the ventilator" after being released to the media. He also called into question the filing of multiple first information reports (FIRs) against him.
"How is it possible that FIRs were lodged against me across the country while the justice system slept?" He also accused those responsible for the case against him of destroying the country's institutions. Swati went on to say that institutions were being destroyed because a small group of people controlled the government. He urged the country to support PTI leader Imran Khan, saying he was fighting for the country's survival. He claimed that Pakistan's "internal and external enemies" were attempting to destabilise the country, but that these forces would fail.