Jennifer Aniston seen wearing Manish Malhotra lehenga choli in 'Murder Mystery 2' trailer.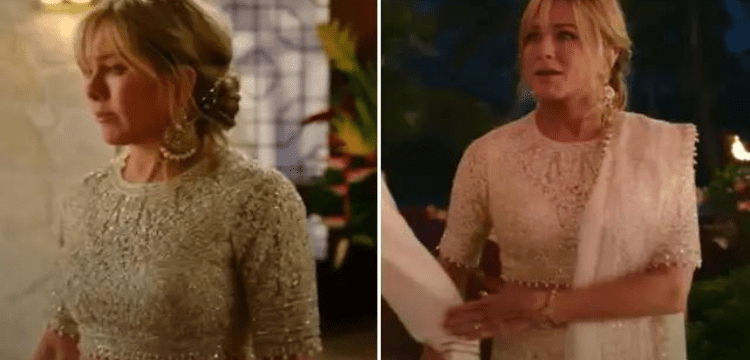 The trailer for Netflix's long-awaited sequel Murder Mystery 2 has just gone viral, but not for the reasons you might think! Jennifer Aniston, the popular Friends star, is seen in the two-minute teaser wearing an ivory lehenga choli by none other than renowned Indian designer Manish Malhotra.
Malhotra took to Instagram to share a photo of the Hollywood star dressed in a custom-made gorgeous lehenga with sequences on top. "The stunning Jennifer Aniston in Manish Malhotra!" exclaimed the designer.
The trailer for Murder Mystery 2 shows an exciting new chapter in the lives of detective couple Nick and Audrey Spitz, played by Adam Sandler and Jennifer Aniston, respectively. Four years after solving their first murder case, the couple travels to an island to celebrate their Indian friend Maharaja's wedding, but things take an unexpected turn when he is kidnapped instead.
The Netflix film, directed by Jeremy Garelick, aims to take viewers on an adventure filled with a thrilling mystery and never-ending comedy gags. Mark Strong, Mélanie Laurent, Jodie Turner-Smith, and Kuhoo Verma also play important roles in the film, which is set to be released in 2023.